Design with Liquid Sculpture
Martin's Liquid Sculpture images provide an eye-catching, evocative flair to brochures, annual reports, catalogs, boardroom walls, magazines, and your own home. The fluid shapes of these water drop photographs are relaxing and engaging.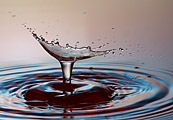 Martin Waugh works with your art director and creative team to deliver images that match your message. Read more...
Interior designers and art buyers and consultants use Martin's images to complement private and corporate decor. Read more...
Martin is available to produce custom images to meet your unique needs, or to provide prints of existing images. Read more...
Choose from dozens of images from the gallery or design your own. Read more...
We offer digital archival prints, printed with state-of-the-art high-resolution equipment on acid-free paper using highly stable inks (100 year fade resistance). Read more...